"The Arm that Has No Place to Go"

Like lovers everywhere,
we try to sleep like spoons.
My knobby knees cuddle behind yours;

the small of your back cups my belly--
two men meshing so naturally,
it still amazes me. Distance is unthinkable

We swim free of angularity,
float in calm union
like twins in a womb.

Your feet warm mine
till I can no longer tell
where my peculiar toes end

& yours begin . . . Prickles go off inside
my forearm, which flops about, helpless,
no longer mine.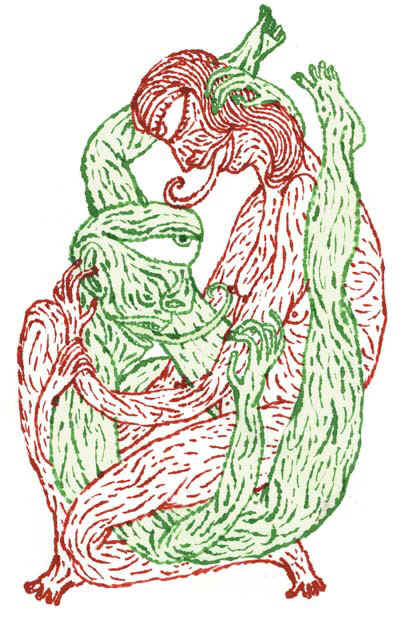 As I shake, shake it quietly
so as not to wake you, too,
I listen for those soft breaths

that assure me you're alive,
then lay my arm between us
like an unwelcome guest

with whom I'm self-conscious & tense.
Over my dead body
we will come as close to one another

as spirit & flesh desire--
but for this intrusive arm,
which becomes a coiled spring

in a clock whose alarm we anticipate
hours too soon.
We begin to begin each night apart,

give up on spoons,
because we know
that arm has got no place to go.

In your sleep, you steal the sheets.
I've learned to pin them with my elbow,
guard them doggedly as my identity

(two male egos; one queen-sized bed).
Once, I yanked them back from you,
& you sat up & applauded

my assertiveness. This must be a dream, I thought,
reaching for your hand. lt seems so, sometimes,
when I read your mind,

answer your question unasked.
Before, I'd give heaps of pennies for your thoughts.
With how many conversations,

cleared of barbed wire & devil's advocates,
have we crossed what was once a no-man's land?
And yet, one patronizing tone on my part, or yours,

can rend this lyrical haze,
& the faultline between any two gapes wider.
Even bedrock slips beneath us

--like the time I sobbed myself breathless:
red lights spun inside my inconsolable skull
while you, locked outside me,

as close as anyone could come
--it felt like miles away--
dried my eyes.

It isn't the sweet arm cradling my waist
that clasps us spirit to spirit
it's the inconvenient arm,

defenseless as an uplifted pinkie,
unfortunate as the boy with a high-pitched voice
who sits alone, like an alien, in the school lunchroom--

Come lay your story beside mine.
Tuck solitude in with us.
Grab your end of this sheet we share,

this caul, this shroud,
that moves with us as we turn in the night,
wide-awake or dreaming,

together in our separateness,
separate in our togetherness,
as close as spirit & flesh allow.

The arm that has no place to go
goes with us everywhere.
Someday, it too will slumber undisturbed:

under our dead bodies,
when we finally doze off in each other's arms,
two men sleeping like spoons forevermore.

-- Steven Riel