I was one of [Gerald Gutierrez's] teachers at Juilliard. I remember sensing he would be a director very early on. He responded more to being on the other side of the footlights. I cast him as Treplev in The Seagull by Chekhov. It pleases me that 25 years later, he became my director and my teacher in another Chekhov play, Ivanov.

His notes were enormously helpful to me. I wrote down everything he said in my script.

One time, he said: "What I love is the sound of an audience listening. The only thing I love more is the sound of an audience laughing."

He said: "Where you can go is limited. What you can do is very specific. Detail, detail, detail." Of course, that is one of the things that made him such a brilliant director, that attention to detail. Above that I scrawled in my script that he said: "I never want to lie to the audience."

At the final rehearsal of Dinner at Eight, he said: "Beautiful acting moves me. I cry, even if it isn't sad."

I used to watch him constantly and would see his eyes fill with tears as he followed a scene well played by actors he loved.

-- Marian Seldes

***
"Critics See a Reagan Legacy Tainted by AIDS, Civil Rights and Union Policies"

WASHINGTON, June 8 - Despite Ronald Reagan's personal popularity, his domestic agenda was in many ways bitterly polarizing. Then, as now, conservatives hailed his tax cuts, his stirring defense of traditional values and his commitment to getting government "off the backs" of the American people.

But many liberals and progressives see his domestic legacy very differently, particularly on AIDS, civil rights, reproductive rights and poverty. Though clearly sympathetic to Mr. Reagan's family, they are still angry over his policies, which they assert reflected the unbridled influence of social conservatives.

Matt Foreman, executive director of the National Gay and Lesbian Task Force, posted an open letter on his organization's Web site this week, addressed to a friend and fellow gay rights advocate who died of AIDS. "I have tremendous empathy and respect for Mrs. Reagan, who lovingly cared" for her husband "through excruciating years of Alzheimer's," he wrote. "But even on this day I'm not able to set aside the shaking anger I feel over Reagan's nonresponse to the AIDS epidemic or for the continuing anti-gay legacy of his administration."

Advocates for people with AIDS have long asserted that Mr. Reagan's lack of leadership on the disease, which was first reported by the Centers for Disease Control in 1981, significantly hindered research and education efforts to fight it. His surgeon general, Dr. C. Everett Koop, wrote later that "political meddlers in the White House" had complicated his work on the disease, and that "at least a dozen times I pleaded with my critics in the White House to let me have a meeting with President Reagan" on AIDS in the mid 1980's.

Mr. Reagan did not make extensive public comments on AIDS until 1987.

In an interview, Mr. Foreman declared: "That history can't be forgotten. I owe it to the people that I lost not to forget it, not to pretend like it didn't happen."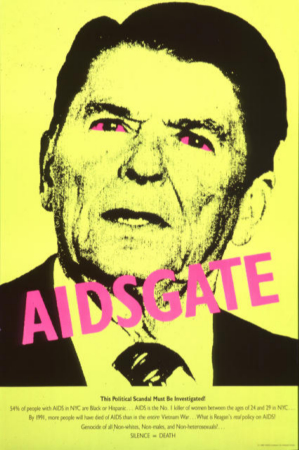 Gary Bauer, Mr. Reagan's domestic policy adviser for the last two years of his administration, countered that spending on AIDS research rose under Mr. Reagan. Moreover, he said, because of Mr. Reagan's strong belief in cabinet government, the president largely ceded the job of speaking out on AIDS to Dr. Koop and the secretary of health and human services.

In general, a hallmark of Mr. Reagan's domestic policy was an effort to slow or reverse the growth of the federal government. He and his first budget director, David A. Stockman, repeatedly tried to trim health, education and social welfare programs that had been expanding for decades, and they achieved much of what they proposed.

"A big part of Reagan's agenda was the devolution of social policy" from the federal government to the states, said John L. Palmer, a scholar of the Reagan years.

But many liberals say that Mr. Reagan broke with the New Deal notion that government could - and should - be an instrument of social equity.

Representative Barney Frank, a liberal Democrat from Massachusetts, said: "He really did turn away from the notion that there was a positive role for government. When he said in his first inaugural, 'government is not the answer to our problems, government is the problem,' he really meant it."

Mr. Reagan also argued that the government better served the poor by assuring strong economic growth than by distributing social welfare benefits. He said he had no objection to financing benefits for the "truly needy" - those who could not work because of age, illness or disability. But he staunchly opposed cash assistance for people who could work.

Michael J. Horowitz, a neoconservative who worked in the Reagan White House, said that by combining a conservative ideology with an affable personality, Mr. Reagan "shattered the caricature of conservatives as less caring and more mean-spirited than liberals."

But Nancy Amidei, who was then director of the Food Research and Action Center, an advocacy group for the poor, said Monday, "President Reagan's policies may not have been intended to be mean-spirited, but in many cases, the effect was to hurt low-income people who couldn't work or who had low-paying jobs."

President Reagan infuriated labor unions in 1981 when he dismissed thousands of air-traffic controllers who had gone on strike and then defied an order to return to work. But former administration officials say Mr. Reagan did not regret his action. Indeed, they say, the dismissals showed people in foreign capitals that Mr. Reagan was a person of substance who was not to be trifled with.

The ascendancy of the Reaganites also moved the Republican Party to a staunchly anti-abortion stance, including endorsements of a constitutional amendment that would outlaw abortion, the appointment of anti-abortion judges and new restrictions on family planning programs that involved abortion services.

That anti-abortion movement is today a leading force against embryonic stem cell research, which Gloria Feldt, president of Planned Parenthood Federation of America, called a ''sad irony." Nancy Reagan has become a leading voice urging the expansion of such research, which involves the destruction of human embryos, but is considered promising for treatment of many diseases.

Similarly, Mr. Reagan's policies on civil rights were bitterly divisive, as reflected by Mr. Reagan's strikingly low share of the black vote, 11 percent in 1980 and 9 percent in 1984.

In 1988, Mr. Reagan vetoed a bill to extend the reach of federal civil rights laws; he asserted it would "unjustifiably expand the power of the federal government" in the affairs of private organizations. Congress overrode his veto.

The Reagan administration also maintained that it was legally required to grant tax exemptions to racially discriminatory private schools. The Supreme Court rejected that contention in 1983. Another move that earned Mr. Reagan the enmity of the civil rights movement was his resistance to economic sanctions against the white minority government of South Africa.

Mr. Bauer asserts that Mr. Reagan's record has been distorted. But Julian Bond, chairman of the N.A.A.C.P., said, "Everyone wants to extend sympathy to his family, but when you remember the actual record, it's a very, very different story."
-- ROBIN TONER and ROBERT PEAR, New York Times, June 9, 2004
***

Brenda Fassie, the wild child of South African pop who was beloved as the piercing siren of the dispossessed under apartheid, died on May 9. She was 39. Family members said that her death stemmed from an April 26 asthma attack at home that led to heart failure and brain damage. She had been on life support since then at the Sunninghill Hospital north of Johannesburg.

For 20 years, singing in English, Xhosa and Zulu, Ms. Fassie was one of Africa's top-selling musicians and the object of some of its liveliest gossip. "Black President," her anthem to Nelson Mandela in jail envisioning the day that he would come out and lead the country, became her generation's harder-edged addition to its elders' tradition of religious liberation songs. "Vulindlela," her wedding song, was adopted by the African National Congress in its 1999 election campaign. "Weekend Special," her complaint that she would not be a married man's part-time girlfriend, topped the charts before she was 20 and remained a staple.

Ms. Fassie's tempestuous life and her changing fashions in music and clothing earned her the nickname "the black Madonna of the townships," but she was far less solvent and far more impetuous than the American Madonna. She struggled for years with drug and alcohol problems, hitting bottom in 1995 when she woke up in a seedy Johannesburg hotel next to the body of her lesbian lover, who had overdosed. She went into rehabilitation, but was defiant in interviews about her crack use and her bisexuality, then largely taboo subjects among black South Africans. She was often broke, sharing her large houses with her singers, musicians and hangers-on and helping support her siblings. She missed concerts, leading her fans to riot and her producers to sue. Even when she was famous, her son, Bongani, now 20, was asked to leave his grammar school when she could not pay tuition. He is her only survivor.

She had a series of stormy relationships with men and women, many of which ended in a hurricane of newspaper articles with accusations from one side or the other of beatings, theft or drug binges. She fired and then reunited with various managers, and alienated critics by hurling obscenities at them during awards ceremonies. And yet through it all, the nation looked on her with indulgent affection.


She could call herself the niece of former President Mandela (she was a member of the same Madiba clan of the Xhosas) and refer to him as a "bloody jailbird" in the same sentence and still be forgiven. (He, his former wife Winnie and President Thabo Mbeki all visited her in the hospital before her death.) Recently, after a string of South African music awards, she boasted: "I'm going to become the pope next year. Nothing is impossible."

Ms. Fassie, who was named for the American singer Brenda Lee, grew up in a two-bedroom house in Langa, a black township outside Cape Town. The last of nine children of a domestic worker, she sang as a child at churches and hospitals, and then in high school she joined a group that performed in colored townships, which was unusual in those days when apartheid segregated the races on a hierarchical ladder and mixed-race audiences rarely accepted African singers. She described running away from home at 14 and hitchhiking on a gasoline truck to the Soweto township outside Johannesburg. Other accounts said she went in an agent's car with her mother's permission. In any case her talent was soon recognized, and she was asked to front a group that then changed its name to Brenda and the Big Dudes. After their initial hits, she went off on her own, and the Dudes named their next album "Hamba Uzobuya" ("Yeah, Go, but You'll Come Back"). She did not. The Dudes disbanded. Her career took off.

-- Donald G. McNeil, Jr., New York Times

Often in newspaper obituaries, a euphemism for the death of a lesbian is: "There are no known survivors."

-- Lesbian Herstory Archives Newsletter