Per square mile in Montana: 3.3 deer * 1.4 elk or antelope * 896 catchable-size trout * 6 people

***

Prior to 1800, Montana was the eye of a cultural hurricane, where Indians migrating from all directions, bringing horses and guns with them, met to create new and unusual societies. These Indians would share a common fate in the years following 1800, as Americans and Canadians drove them from their lands, reduced them by war, disease, and alcohol, and shattered their native cultures.

-- Michael Malone, Richard Roeder, and William Lang, Montana: A History of Two Centuries

***

The earth was created by the assistance of the sun, and it should be left as it was...The country was made without lines of demarcation, and it is no man's business to divide it...I see the whites all over the country gaining wealth, and see their desire to give us lands which are worthless...The earth and myself are of one mind. The measure of the land and the measure of our bodies are the same. Say to us if you can say it, that you were sent by the Creative Power to talk to us. Perhaps you think the Creator sent you here to dispose of us as you see fit. If I thought you were sent by the Creator I might be induced to think you had a right to dispose of me. Do not misunderstand me, but understand me fully with reference to my affection for the land. I never said the land was mine to do with it as I chose. The one who has the right to dispose of it is the one who has created it. I claim a right to live on my land, and accord you the privilege to live on yours.

-- Chief Joseph, 1832-1904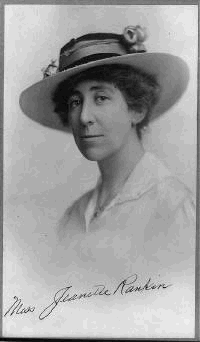 Born in 1880 on a ranch outside of Missoula, Jeanette Rankin became the first woman elected to the US House of Representatives and the only member of Congress to vote against US entry into both world wars. [Montana was the first state to give women the right to vote.] After casting her first antiwar vote in April 1917 - five days after being introduced in Congress as its first female member - she said, "I have always felt that there was more significance in the fact that the first woman who was ever asked what she thought about war said NO and I believe that the first vote I had was the most significant vote and a most significant act on the part of women, because women are going to have to stop war."

On that vote, she had the support of 56 other members of Congress. Twenty-four years later, after her re-election to Congress, Rankin stood alone in her opposition to war. On December 8, 1941, the day after Pearl Harbor, she cast the lone vote against US entry into World War II. Asked to justify her unpopular position, she replied, "A just nation never votes unanimously for war." It was her political undoing. She was defeated in her 1942 re-election bid.

-- Norma Tirell, Montana

The nation's third president, Thomas Jefferson, saw westward expansion as the key not only to inland commerce but also to control of a growing trade with China via the Pacific. With a single real estate deal, Jefferson doubled the size of the United States when he bought Louisiana Territory from France in 1803 for a sum of $16 million.

To explore this vast and uncharted land, Jefferson appointed a "Corps of Discovery," headed by his private secretary - Meriwether Lewis - and William Clark, younger brother of Gen. George Rogers Clark. In just over 28 months, the expedition had traveled more than 8000 miles by foot, horseback, and boat. Well over a quarter of that distance encompassed what is now Montana. Among the goals of the Lewis and Clark expedition was an inventory of the West's fur-trade potential. Shortly after M Lewis reported that "that portion of the continent watered by the Missouri and all its branches...is richer in beaver and otter than any country on earth," trappers and traders arrived in great numbers, and the West, as the Indians knew it, was changed forever. By the early 1880s, hide hunters had shot the buffalo to virtual extinction, and similarly rubbed out the lifestyle and culture of the Indians who relied on it for their food, shelter, clothing, and tools.

***

Marcus Daly's Anaconda Copper Mining Company, at one time controlled by Standard Oil and William Rockefeller, held mines, smelters, lumber and railroad operations, coal fields, and most of the state's major daily newspapers in the snakelike grip for which the company was named. The loser was Montana, which was dominated for years by one corporation.

The colossal fortunes created by Butte's concentrated deposits of metal ores never remained in Butte long enough to mitigate the damage created by their extraction. Instead, they wound up in the hands of three principal entrepreneurs, who came to be known as Montana's "copper kings" - Daly, William A. Clark, and Augustus Heinze.

The story of the copper kings is not unique in Montana history. The importation of capital, exploitation of resources, and exportation of profits has been a recurring pattern since the fur-trade era,
when beaver pelts left Montana by the boatload. Later in the century, Montana's "free grass" and "free water" gave rise to a cattle boom that was financed largely by British capitalists and East Coast
investors, the same crowd that developed the mining frontier and stretched railroad tracks across the continent.

***

Great fortunes were made in Montana, but always at the expense of the state and its residents. Montana's history has been that of an isolated colony held captive by outside interests. Armed with capital to develop the riches of this sprawling land, they trapped its beaver, slaughtered its buffalo, plowed its virgin grasslands, fenced its plains, logged its timber, mined its precious metals, removed tons of earth to expose its thick seams of coal, and most recently used toxic cyanide to leach scant ounces of gold from tons of ore deposits.

Nowhere is the legacy of Montana's extractive economy more apparent than in Butte, where the environmental wreckage that began a century ago still blights the landscape. In its heyday, Butte was known as "the richest hill on Earth." The hill that produced more than $2 billion worth of gold, silver, copper, and zinc is now a crater. Underground mines were gradually replaced by a huge open-pit mine that opened in 1955.

Until it was closed in 1983, the Berkeley Pit ate away at the city like a beast that feeds on its own flesh. During an unusual period of prosperity, urbanization, and political activism in the 1970s, Montanans began to write a new chapter of history by fighting back to save the land they loved. Some of the nation's most stringent conservation laws can be traced two decades back to Montana's legislative halls and courtrooms.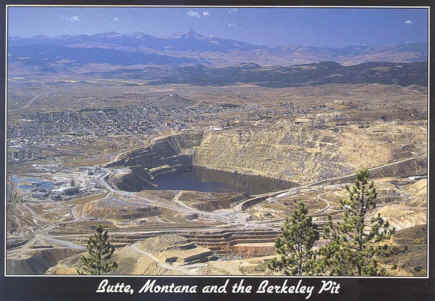 By the mid-1860s, Montana had nearly 30,000 permanent, non-Indian settlers, where five years earlier there had been none. Gold strikes established southwest Montana as the progenitor of the state's most enduring nickname, the Treasure State. In the 1860s at the height of the gold rush, strikes were so rich it was said that a prospector could shake a dollar's worth of dust from an uprooted sagebrush. In five years, the digs at Alder gulch (now Virginia City) produced $30-40 million worth of gold; Last Chance Gulch produced an estimated $19 million in just four years. But the gold played out, and so did silver. Then in 1882, the fortuitous discovery of a thick vein of copper beneath the undistinguished gold camp of Butte ushered in the greatest era of all in Montana mining history and immortalized Butte as "the richest hill on earth."

Right behind the miners came the stockmen, who supplied the fresh meat for Montana's mining camps. The valleys were as rich in grass as the mountains were in precious metals. While the plains of eastern Montana fattened hundreds of thousands of cattle for the export market during the state's great open range cattle era of the 1870s and 80s, Montana's early mining camps provided a ready market for pioneer stockmen.

The discovery of rich copper ores in Butte coincided with the introduction of the electric light bulb and telephone on the world market, and the rest as they say is history. Large mining interests turned to Butte, and between 1882 and 1890 copper production increased from 9 million to 130 million pounds, and the city's population tripled. Once Montana's largest city, Butte now ranks fourth.

This mile-high mining town is known affectionately as "Butte, America," because the valley in which it lies was lost in a frontier twilight zone between the Louisiana Purchase and the Oregon Territory, and never legally procured as part of either chunk of real estate. A true melting pot, it drew thousands of foreign-born immigrants in search of a living wage. While the Irish dominate, there are still pockets of Finns, Slavs, Italians, and others. Surrounded by gallow frames, mine spoils, ore dumps, and mine shafts, and perched on the edge of the defunct, mile-wide Berkeley Pit, Butte stands uncontested as Montana's most unattractive city. It has been described in the national press as "the ugliest city in America."

-- Norma Tirell, Montana