It's been a steamy summer in New York City. The newspapers have bristled with lurid, titillating details of high-placed politicians and their sexual peccadilloes: the New York state congressman and the Tweeted crotch shots; the French pol, the Guinean housekeeper, and the Sofitel room's semen-splashed wall. Those don't hold a candle, however, to the filthy doings at Shakespeare in the Park, where both plays in repertory pivot on what scholars refer to a "bed trick." Basically, that means one woman saying to another, "Here's the deal: in order to save my brother, who's been sentenced to death for impregnating his fiancée, I need you to pretend to be me and have sex in the dark with this guy…who happens to be YOUR HUSBAND." Sheesh! If it weren't for those nice gay men and lesbians dancing in the streets to celebrate their newly proclaimed right to matrimony, who would be defending the institution of marriage from these kinky heterosexuals?

"All's Well That Ends Well" and "Measure for Measure" have long been lumped in the category of "problem plays" in the Shakespeare canon, because of their gymnastically contorted plots and their pile-up of bewildering decisions passed off as reasonably motivated human behavior. Director Daniel Sullivan, whose "Merchant of Venice" (which began in Central Park last summer and later moved to Broadway) was one of last season's highlights, has worked similar magic to give "All's Well" a lucid and beautifully performed staging. Meanwhile, despite some good ideas and canny casting, David Esbjornson's production of "Measure for Measure" remains an unpleasant mess. For the second season in a row, the Public Theater has scheduled the two Shakespeares to play in rep with the same ensemble of actors.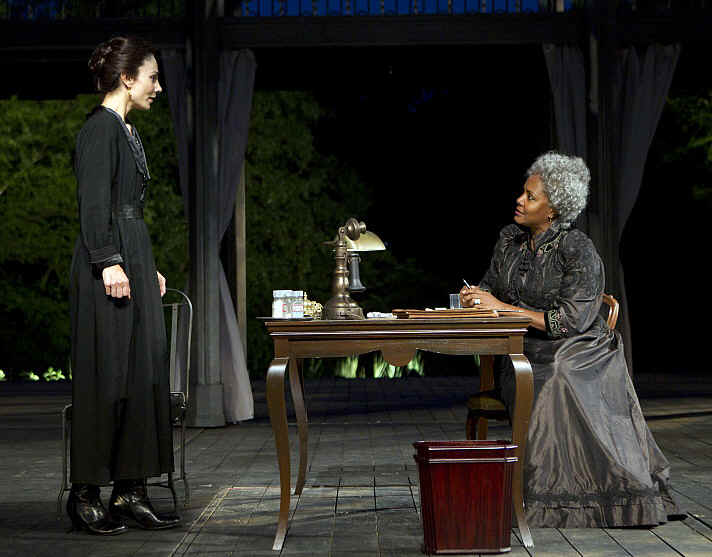 "All's Well" centers on Helena (the excellent Annie Parisse, above left), an aging and unmarried physician's daughter grieving her recently deceased father and pining for the love of Bertram (Andre Holland), the handsome but callow son of her benefactor, the Countess of Rousillion (an admirably regal Tonya Pinkins, above right). When Helena applies her own healing powers to the failing King of France (John Cullum in a finely etched performance), he rewards her by decreeing that she can marry any man she chooses, and of course she picks Bertram. But he considers her beneath him, so the instant they're married he runs off to war in Tuscany with his sidekick, Parolles (a strangely sibilant and overemphatic Reg Rogers).

It's easy to associate Shakespeare only with a dozen or so often-produced academy-approved classics and forget how eccentric and downright weird the rest of them can be. Consider the crazy conversation between Helena and Parolles on the subject of virginity. Or the extended scene in which his fellow soldiers set out to expose what a coward Parolles is by kidnapping him, blindfolding him, and pretending to be foreigners speaking in gibberish ("Oscorbidulchos volivorco"). Even the King's reward to Helena signals a turnaround – isn't it usually the men who get to pick and choose their spouses, and the women forced to go along? This play includes more lengthy, intricate scenes between women (Helena and the Countess, Helena and the Florentine widow and her four daughters) than any other Shakespeare play I can think of. And these female conspirators pretty much control how the play arrives at its conclusion, though whether that conclusion lives up to the play's title depends on how you mean by "well."

Esbjornson's "Measure for Measure" begins and ends with two different flavors of nightmare. In a provocative though not entirely persuasive attempt to justify the play's first action, the director puts us in bed with the Duke of Vienna, where his sleep is disturbed by visions of naked black rubber demons with horns, tails, and dangly genitalia – apparently his vision of what a sewer the town was a century before Brahms and Mozart got there. Convinced that somebody other than himself needs to clean up, the Duke deputizes the super-strict moralistic Angelo, and then he pretends to skip town but comes right back disguised as a monk to see how Angelo gets the job done. Like some 16th century Taliban, Angelo immediately shuts down the brothels and starts arresting any fornicators he can get his hands on. But then when Isabella, a chaste young woman who's just about to become a nun, comes to plead for the life of her brother, who's been sentenced to hang for the heinous crime of impregnating his bride-to-be, her purity somehow inspires Angelo to do whatever it takes to get into her pants.

None of which makes any logical sense at all. All of which makes the play perfectly relevant to life on earth today.

I'm willing to believe that some productions manage to give the nutty twists and turns of "Measure for Measure" a modicum of plausibility, but this one doesn't. Key performances don't cohere. Lorenzo Pisoni (below), though well-spoken, is a flat-footed and perhaps too-young Duke of Vienna. Michael Hayden is a fine actor, and he plays Angelo without the kind of commentary that constantly reads "villainous." But I didn't buy his falling for Isabella, despite Danai Gurira's jewel-like performance (the evening's best). And this play's "bed trick," always hard to pull off, seemed especially bizarre – we're asked to believe that, in the dark, Angelo couldn't tell the difference between a short black woman with close-cropped hair (Gurira, below) and a tall white woman with luxurious hair (Annie Parisse as Mariana, the fiancee that Angelo dumped when her dowry vanished).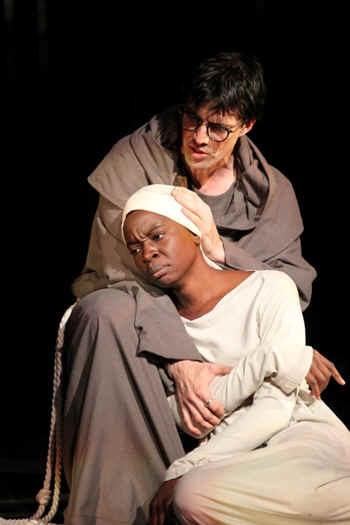 Did I mention that this play is considered a comedy? Bearing that in mind as the play's grim, cruel events unfold helps to train the attention for the oddities that emerge from Shakespeare's text: something about stewed prunes, an idle question about "which of your hips has the most profound sciatica," and the speech in which Pompey, the clown who doubles as pimp, goes through the audience identifying regular customers of Mistress Overdone's whorehouse. Punk-clad Carson Elrod had a lot of fun with that last scene on opening night, leaving the stage and working the house, especially when he landed in the VIP section and got to add to the list "Bill Irwin, the world's greatest clown!"

I mentioned that the show ends with another nightmare. Typical for Shakespeare comedies, "Measure" ends with a passel of marriages, but there's no guarantee that any of the couples thrown together at the last minute will live happily ever after. The Duke, whose capricious manipulations have wrought havoc all night, may think he's bestowing on Isabella the greatest reward imaginable by announcing that she gets to be his wife. But Esbjornson ends the play with Gurira's Isabella standing front and center looking out at us, bug-eyed with disbelief. And just to toss in the kitchen sink, the director cues up the Rolling Stones, so the actors take their bows and the audiences stream out of the theater to the tune of "Sympathy for the Devil." Well, why the hell not?

CultureVulture.net, July 4, 2011