"What Are My Chances? You Tell Me"

Someone has to win. That's what I keep telling myself as I search through the pages of stamps, trying to decide which color Jaguar I want. I tear out the perforated picture, lick the back, paste it between the correct dotted lines, seal the return envelope, and stamp it. All the way to the mailbox, I keep hoping I don't run into anyone I know who will see the brown envelope in my hand addressed to the Publishers Clearing House Sweepstakes.

I know the odds are against me. Is there a household in America that doesn't get mailings from Publishers Clearing House? If even one in ten households has a single person who says to himself, "Someone has to win," we're already talking millions of rivals. Plus, this is no charity. They're selling magazine subscriptions. Legally, they have to say "NO PURCHASE NECESSARY TO WIN." I start out taking them at their word. But they wear you down with additional mailings. "To be eligible for the $10 Million super prize, you must send in your FINAL ROUND entry!" On each of these mailings, the return envelope has a box to check that says "Yes, I've ordered magazines" or "No, I'm a cheapskate and I just want to win something for nothing." Come on -- you know as well as I do that what happens to envelopes that say "No."
The pressure increases as the time for the drawing approaches. To prove they're legit, Publishers Clearing House will announce the winner of the Ten Million Dollar prize during the TV broadcast of the Super Bowl on January 28. This year PCH had contestants fill out a photo release in advance. Yes, I admit it, I signed and returned a slip authorizing Dave Sayer of the PCH Prize Patrol to surprise me in my boxer shorts watching the Super Bowl in order to give me ten million dollars.

I know it's unlikely that I'll win. But I didn't consider just how unlikely until I received the latest FINAL ROUND entry form. It was a dummy newspaper headlined, "DON SHEWEY WINS $10,000,000.00 ON JANUARY 28 -- America Watches as The Sheweys Learn of Their New Fortune." Who are these multiple Sheweys? I live alone. The copy goes on to say, "Like many Americans, the Sheweys were planning on watching the Super Bowl in their New York home when their doorbell rang." Uh-oh. I live in midtown Manhattan on the third floor of an apartment building. Somehow standing on the street, pressing a buzzer, and screaming through the intercom doesn't strike me as anybody's idea of great TV. I can just see Dave and his camera crew playing Phone Booth in my elevator, the one with the psychedelic paint job that's just big enough for me and my laundry cart. Then once they're in the door, they'll have to maneuver around the bundled back issues of Motor Trend, Vegetarian Times, and Doll Dresses.

"After convincing the Sheweys that indeed they did win the Ten Million Dollar fortune, Mr. Sayer became the unofficial host of an impromptu block party as word of the life-changing win spread through the neighborhood." Block party? I live on 56th Street between Fifth and Sixth. On one corner is Harry Winston, on the other is the Harley Davidson Cafe. I'm sure Harry will drop everything when he hears the news. He'll probably stop and pick up Norma Kamali on the way.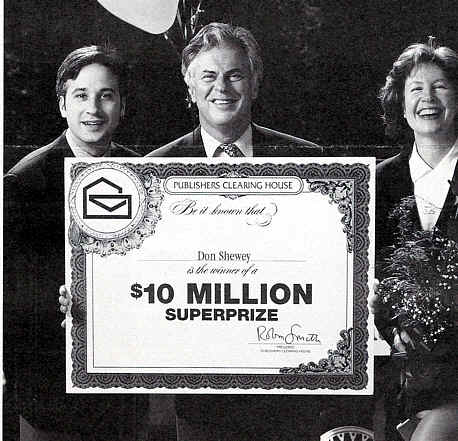 "It's a tradition to bring our new millionaires out to New York for a special Winner's Weekend," explains Dave Sayer in the PCH Gazette. "So we'll bring the SHEWEYS from NEW YORK, NEW YORK to New York City for a weekend we hope they'll never forget." Excuse me -- Is the copy desk asleep? "THURSDAY -- The SHEWEYS will be picked up by a chauffeured limousine, which will whisk them to The Plaza, Manhattan's premiere hotel." A short trip from 56th Street! Oh, I'm never going to win this sweepstakes. I should have put my parents' address on the entry form. They live in a trailer park called Fun 'n' Sun on a farm-to-market road in San Benito, Texas. Publishers Clearing House could really get a lot of mileage out of making them the winners.

But why be a pooper? I can enjoy a weekend at the Plaza as much as the next guy. In fact, I've already selected my room. With the FINAL ROUND entry, PCH thoughtfully enclosed a brochure from the Plaza giving contestants a choice between the Vanderbilt Suite with its heated towel bars and marble fireplace and the Astor Suite with its personal spa facilities and hand-carved 18th century French decor. Isn't it obvious which is preferable?

"On Friday after the awards ceremony THE SHEWEYS will be treated to a night on the town, including a Broadway show." The choices are Show Boat, Phantom of the Opera, Les Miserables, and Miss Saigon. Now, listen. I'm a picky New York queen. I've seen all those (tired) shows already, and I'm not about to see any of them again. Surely, PCH can pull some strings and get me house seats to Master Class. That's probably the only way I'm going to get to see Zoe Caldwell doing La Divina before the Tony Awards.

"SATURDAY -- The SHEWEYS will have a day for themselves." Shopping at Saks: what else is new? Lunch at Windows on the World: believe me, I'd settle for Wolf's Deli. Ferry ride to the Statue of Liberty: in January? Are they out of their minds? "SUNDAY -- After breakfast, the SHEWEYS will be driven back to NEW YORK, NEW YORK where family and friends will be waiting to welcome the $10,000,000.00 winners back home." Return to an apartment stripped to the moldings by Super Bowl-watching cat burglars is more like it.

I don't want to be too negative, though. It'll spoil my chances. I'm staying home on January 28. I've never watched the Super Bowl. I think it's a football game, but I'm just guessing. I can probably rent a Super Bowl video from Blockbuster. My friend Judy is willing to pose as Mrs. Shewey for the day, though she's demanding a hefty share of the proceeds. I'll go to a botanica in the East Village and get some of that air freshener in the gold can that promises to attract money and spray it all over the apartment.

I know it's a long shot. But I'm open to the possibility. I trust the universe. After all, someone has to win.

-- Don Shewey